1995-96 IonicDynamics FRP Front lip Review
Submitted by

gtrrider

on Thu, 08/16/2012 - 10:57
As we know the 4th generation(1995-1999) Maxima is becoming older and wiser(?) but more so older. As we all know the older a vehicle becomes the lesser its value gets, and the more expensive the aftermarket parts are relative to the cars value. That being said companies like Ionic Dynamics are coming to the realization that some aftermarket support is not only more pricey but also valued more then some of the cars they are being installed on. Jose, from ID, took it upon himself to construct a line of products to resemble some of those top notch products but for a more reasonable price with a greater selection of options. Today's product we are going to focus on is the Ionic Dynamics Front lip which replicates its more expensive Stillen counterpart on our Project Maxima.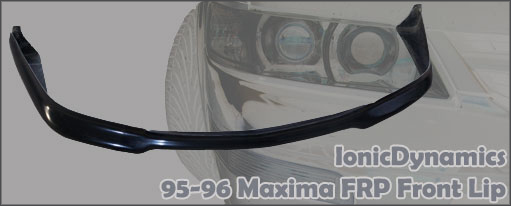 Basing our review from a factory fascia, there is a noticeable aggressiveness to the front end of Project Maxima. Not only was the installation straight forward it fit extremely well for a one man installation. We will also note that once this product is installed it becomes very ridged so someone with a slightly lowered to an extremely lowered car should be very cautious of their driving habits. FRP or Fiber-Reinforced Polymer composite is a combination of polymer (plastic) and a reinforcing agent such as glass or other reinforcing material.
Pros:
Noticeable aggressiveness.
Easy of install
Great fit and finish.
Remarkable depiction of Stillen Product
Cons:
No installation material supplied
Application:
Additional Note:
There are two variants one in regular fiberglass material, and the other in Carbon Fiber Material. Please be aware of which one you are purchasing
Part Number Information:
1995-96 FRP Front Lip
$199 with Free Shipping
Where To Purchase:
Tools Required for Installation:
Assorted Drill bits

Screw Driver

3M Double sided Tape

Rubbing Alcohol
Installation Process:
Get the car up enough on your jack stands or lift so that their is enough room to work around the lower bumper fascia. Apply some rubbing alcohol to the area you are going to be working with making sure the area is completely dry before continuing. Apply the front lip to your lower fascia as a dry run to determine where your 3M tape will be applied. Begin applying your 3M adhesive tape to the back side of your new Front Lip making sure to apply enough around each end.
A friend for this next process is ideal while working with one end. Remove the red protective sheet from the 3M tape and apply your front lip firmly applying pressure to the mating surfaces. While still applying pressure, apply screws to the 2 fender wrapping edges and also several on the under side of the middle section.
Final Product: