Activate the Low Washer Fluid light
Submitted by

gtrrider

on Thu, 09/06/2012 - 11:22
First off you need to order part# 28911-1E400...I called Dave B @ 888-254-6060, call him he works @ a Nissan Dealership & will beat by far your local Nissan Dealership Price!

PLEASE KEEP IN MIND THAT PICS SHOW WASHER FLUID RESERVOIR WAS TAKEN OUT. YOU DO NOT NEED TO TAKE IT OUT, BUT I LEARNED THAT AFTER I TOOK IT OUT & SINCE IT WAS MY FIRST TIME DOING IT
1) Open plastic cover from underneath car, like you would to change the passenger side fog light.
2) Now check to see if you see wire circled in above pic. This wire is needed to make sensor work.
3) Now test-fit the sensor tube with wire.
4) Ok now to make sure it works. You need another person to help you with this step. Connect sensor tube. Now find a water bottle and cut top off like above pic, & fill with water. Now turn car on & dip sensor tube in bottle full of water. Now have other person check to see if your washer fluid warning light comes on your dash.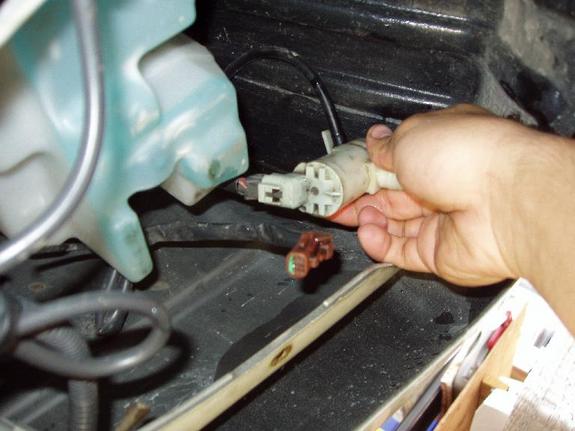 5) Now that you checked that it works. Have a bucket underneath & unplug tube shown in above pick to drain any washer fluid in there.
6) Now look closely at bottom left of reservoir & you should see a sketched circle where sensor tube should be.
7) Now take an 1 inch or 1 1/4 inch wood boring bit (i think that's what its called) & drill a hole were sketched circle is on reservoir. Should look like above right pic.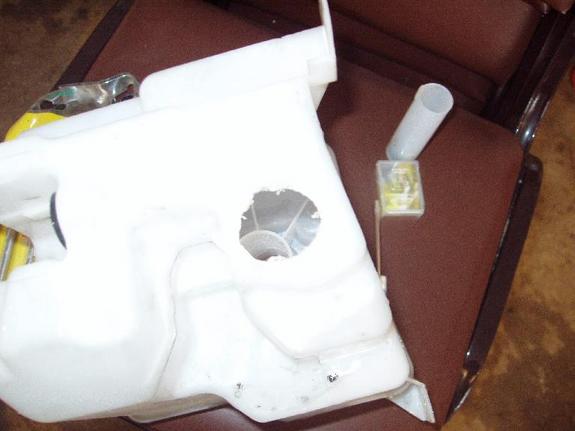 8) As you can see on above left pic I didn't have a perfect circle. Because I believe the 1inch bit was too small but i just went round & round to make hole bigger. *Don't make it too big & test fit tube if need to. Should be a TIGHT fit for sensor tube.*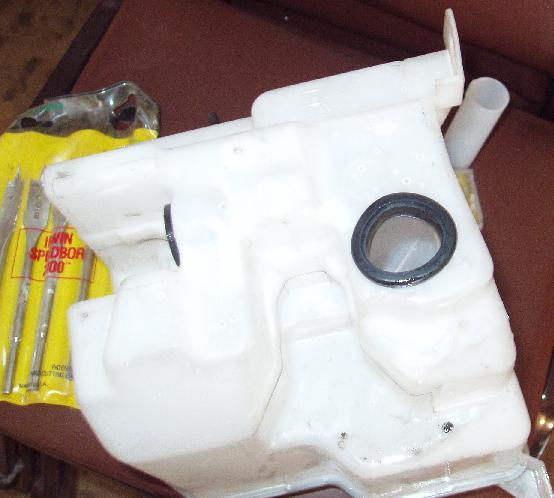 9) Once hole is big enough. Put on rubber around hole that came with sensor tube.
10) Now insert sensor tube. Should be a tight fit!
11) Now with some silicone put it around the edges of the tube you inserted. This is just for extra protection that it wont leak.
12) Now get wire & plug into sensor tube & your DONE!!!
**To be safe I didn't re-fill my washer fluid reservoir for a couple days. Just to make sure the silicone completely dried.**