BlehmCo Lower Tie Bar Systems, Now for 89-2003 Maxima
Submitted by

gtrrider

on Sat, 08/04/2012 - 11:42
This part is designed to tie the front suspension together to provide sharper steering response and better handling overall.
Stage I
This is a bar that ties together the bolts on the front lower control arm gussets, providing sharper steering response and less chassis flex in corners.  Handling improvements are very similar to installing a strut tower brace, which you can also add on the top of the suspension to tie the front end together really well!
The only drawback is that you lose a bit of ground clearance- but since it sits between the front wheels, the only time you might have a problem is when driving over extremely uneven surfaces.  I have had the Stage II bar on my car for six months now and have only scraped it three times- all of which could have been prevented had I been paying more attention while going over extremely rough roads...
The price for the Stage I lower tie bar is $65, plus shipping- a VERY worthwhile and affordable mod!


Stage II
This one is a bit more complex.  It bolts onto an additional frame mount behind the control arms to provide more strength and reduce chassis flex even more.  you don't lose any more ground clearance, but you do gain several more steps up the ladder in the handling department.
For 3rd gens, this requires a small amount of grinding on the left side gusset to fit, but does not alter or weaken the structure of the car at all- you simply have to enlarge one hole by about 2mm for one of the mounting points to fit properly.  For 4th and 5th gens, this is a simple 15 minute install (assuming you have air tools and a jack).
Currently, the 4th Gen bar does not fit over the Cattman Headers, but I am working on a revised piece that will clear them.
Price on the Stage II Lower Tie Bar is $175, plus shipping.
Here are a few more pics:
4th Gen Lower Tie Bar
5th Gen Lower Tie Bar

Current fitments WILL Clear all aftermarket Y-pipes  (Warpspeed Performance, Cattman, Stillen), but will NOT clear the Cattman headers on the 4th gen.  I'm working with a customer in redesigning the 4th gen bar so that it will fit.  If you have these headers or plan to purchase them, stay tuned and I'll have a design that fits.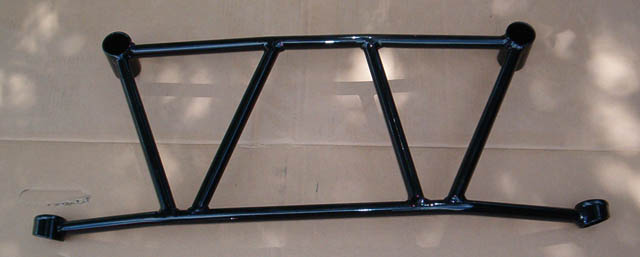 (Click the image for an up-close shot)