Bomz Racing Cold Air Intake for 1995-1999 Nissan Maxima
Submitted by

gtrrider

on Fri, 08/03/2012 - 16:54
A new Cold Air Intake system for the 1995-1999 Nissan Maxima is soon to be available fairly new badge of Bomz Racing showing off on the piping. Interest would be for those looking for a system in the $89.69 with Free Shipping. (Normal price: $129 + S/H) range. They said that they going have the CAI in about 3 weeks, so the first 50 buyers can get them for $89 including Shipping and Handle fee. All we need to do to get the special price is put in the special code when we are placing the order from their site. The special code is ( MAXORG ). Enter the code b4 you enter your payment info page, and you will be able to verify the discount price in the final review page. It seems like a great kit (Honda Civic System below), with very chrome-ish looking piping and a nice flow of color. I'm sure it would provide good gains by the piping size. Please reserve yours today, and get the great introductory price!
Update: DirectCarParts current has the intakes ready and already have it in stock. They are ready to ship out the CAI right away
to all pre-order customers.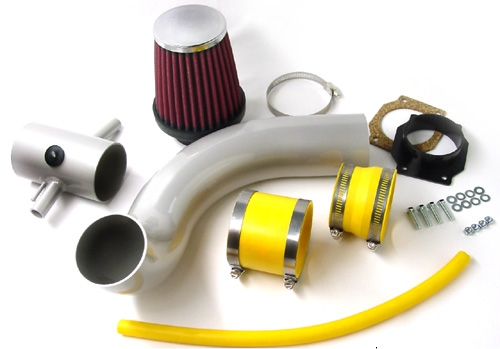 (Actual Kit)