CustomMaxima.com Carbon Engine Cover Review
Submitted by

gtrrider

on Sat, 08/04/2012 - 11:01
CustomMaxima (a CustomEnterprise division) is constantly trying to produce new and exciting things for the Nissan Maxima. Whether it be Interior/Exterior/Engine bay components they never cease to dazzles us when new creations come into the real world. Their newest creation just happens to be a full Carbon Fiber valve cover, which replaces the factory "Nissan V6 3000" cover. With the up and coming Nissan Maxima show car owners, they always want to be a step ahead, and this new modification will surely set you apart from the rest.
The weight difference between the factory cover, and the new CE carbon fiber cover is almost impossible to measure. Our expectation for this cover is for it to withstand the enormous heat generated from the VQ motor, and still perform as a good looking piece. At first glance, this piece is packaged very well with a very interesting box casing, which displays the CE logo, and an illustration of the valve cover. During installation the fit of the CF valve is almost an exact fit as the standard cover.
We say almost because it is rather a tight fit when replacing using the factory valve cover bolts. Maybe a little adjustment to the mold may give a cleaner fit, but all in all it is a great piece and really spices things up..
Pros:
Gives off a cleaner look to the engine bay area.
Great attention catcher.  
Cons:
You need a nice looking oil cap to coincide with the new look.
Maxima.org members will get special pricing of $109 shipped on this part if they mention this product review.
The finished product: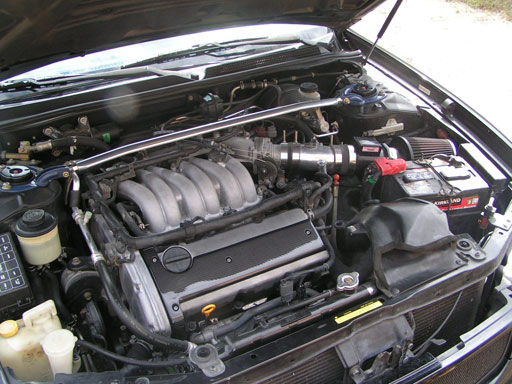 Application:
95-99 Nissan Maximas

96-99 Infiniti I30s
Additional Note:
Part Number Information:
Maxima Carbon Fiber Engine Cover
CFEC9501 $129
CFCover
Where To Purchase:
Maxima Carbon Fiber Engine Cover

Dealer:
CustomMaxima: (800) 806-5798

Contact:
Sales Department
Tools Required for Installation:
Installation Process: FRONT
Installation is extremely easy, even for the least bit mechanically inclined individuals.  Before we begin, make sure that you have allowed the engine to cool down as you will be touching components which can get to extreme temperature levels. USE CAUTION!

 

 
Open you hood and locate the four(4) Allen bolts on the very top of the valve cover. They are hard to miss so don't look too closely at it. Loosen and remove all four(4) bolts and put them aside. At this point you can lift up on your factory Valve cover and it should come out clear of any objects.

 

At this point you have revealed the front three Electronic Ignition coil igniters, if you have any other work to be done under there, here is your chance. Mount your new Carbon Fiber Cover in place, and tighten it down firmly. Stand back and watch as your engine has transformed from bland and boring to exciting and interesting.