"Joshua Tree Woodtrim" Dash Kit
Submitted by

gtrrider

on Thu, 09/06/2012 - 14:21
A "Joshua Tree Woodtrim" Walnut Burlwood 41 Piece Flat Panel Dash Kit can be purchased from www.woodtrim.com The 41 piece set costs $400. In my opinion it makes the car look a lot more luxurious and classy then the original dash.
The kit takes about three weeks to ship because "Joshua Tree" hand cuts all orders they receive rather then mass producing the kit with a laser cutter. Also, "Joshua Tree" uses real wood in their kits instead of paper or synthetic wood like most companies do. The kit comes nicely shipped in a thin cardboard box protected with Styrofoam and bubble wrap. Included in the box, besides the wood pieces, is a 3M glue stick, instructions, and a "Shadow Sheet"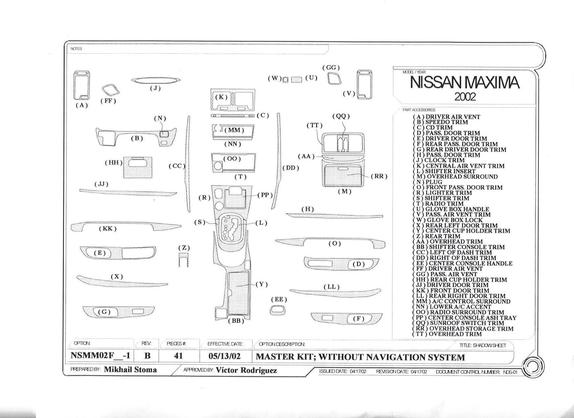 You must have a lot of patience when installing this kit because once you remove the plastic strip on the back of each piece and apply it to your dash, it really can't be removed. You must make sure that you have a steady hand and place the pieces on the dash precisely where you want them to go.
Make sure that you thoroughly clean the dash with alcohol or another cleaning product prior to installing the kit. This way you will remove any and all dust and/or residue that would tamper the 3M glue to stick properly. In some situations you might have to use the included 3M glue stick to give you an extra "stick" in hard to apply places, such as curves and bends.
As you will see in the pictures below the wood dash makes such a difference in the appearance of the interior. Some would say it looks like an entirely different car. If you want a mod that will make such a difference every single day you step foot in your ride, go with a "Joshua Tree" dash kit. You won't regret it.
Look at the before and after pictures, you be the judge.