Preliminary pics of the Ionic dynamics front lip!!
Submitted by

gtrrider

on Fri, 08/03/2012 - 17:14
This new Front lip crafted by Ionic Dynamics was done extremely well. For a price of $120.00 to Maxima.org Members it would be the best priced so far. Keep in mind that this is front lip is top quality fiberglass that will NOT break easily. Ionic Dynamics is a composed of an interesting mix of professionals dedicated to bringing you the highest quality designs and workmanship at affordable prices. So, please expect the best of quality from these guys. There is only one difference, which would be it will also come available with two small ducts underneath the fog lamp openings."
Pictures Inside..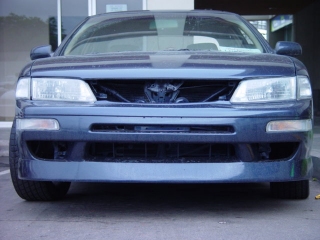 Just in case if your wondering why the headlights are crooked, it is because they were taken off so Ionic Dynamics could work on making a grill and was then put back on for the pics.
For more pics, here is the link: http://www.ionicdynamics.com/97_99lip.html