Q45 Caliper/Cobra Rotor Big Brakes
Submitted by

gtrrider

on Fri, 09/07/2012 - 15:05
Parts used:
*90-96 Infiniti Q45 front calipers
*Hawk HPS Pads (HB415F.583 Will also fit 92-97 Infiniti J30 front calipers)
*Technafit SS Braided Lines (direct fit for the calipers)
*13'' Ford Mustang Cobra rotors - RTP Zinc coated
*Jeff92se's brackets and centering rings (the brackets are designed for the 300zx calipers but will work w/ this upgrade. The centering rings are made for 13'' Cobra rotors. The rings center the rotor.)
*Nuts/bolts/washers (Purchased from Home Depot)
4 Hex Bolts (12mm-1 75x40mm)
4 Lock washers (12mm)
4 Lock Nuts Nylon Insert (12mm-1 75)
Instructions on how to remove your front calipers + rotors found here: http://www.motorvate.ca/mvp.php/300
*FYI* I have 18'' wheels w/ a 30 offset w/ a 1'' lip. This upgrade will not clear stock 4th gen wheels!!
After reading on how to remove the rotor + caliper, continue below...
---------------------------------------------------------------------------------------------------------
*Dust Shield Removal*
The dust shield will only accomodate the stock Maxima rotor. In order for your new rotors to fit, you'll have to either...
a) Bend the lip back until its straight
b) Cut the lip off
c) Remove the dust shield entirely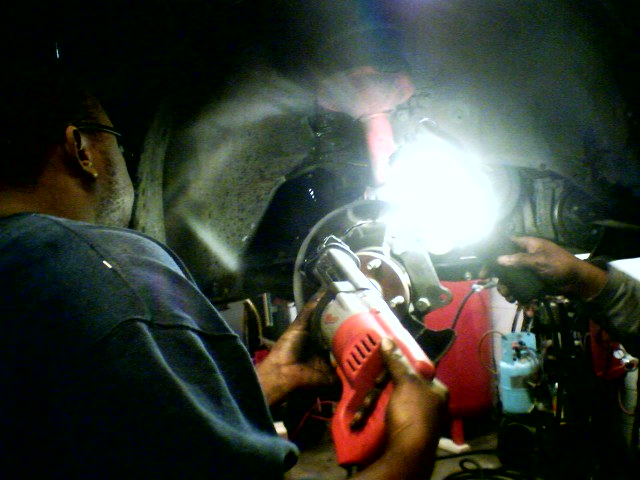 Removal of dust shield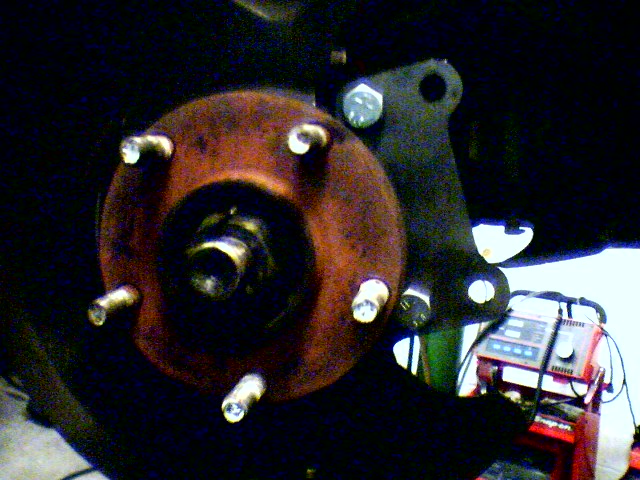 Once the shield is taken care of, use the bbk bracket (dogbone looking piece) IN FRONT of the knuckle. (pictured)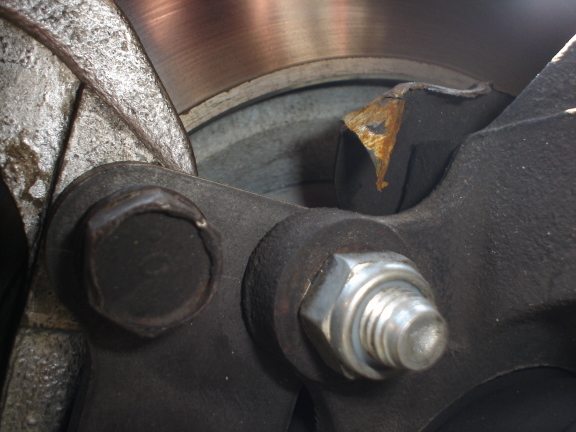 (this is behind the hub. The new hardware is on the right. The stock Maxima hardware is on the left.)
Once the bracket is in place, use the new hardware to secure it. Insert the bolts from the front and secure it w/ a nut.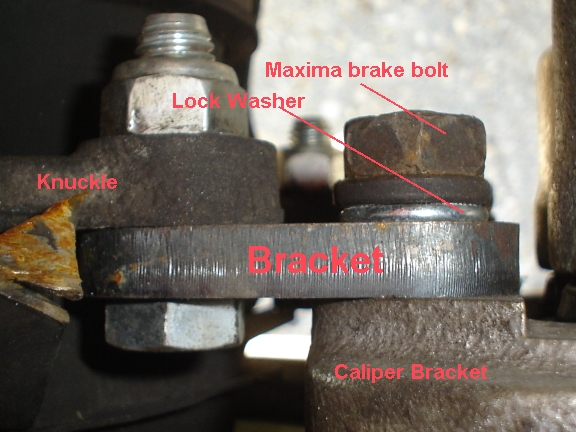 Top view of the bracket + bolts, notice the lockwasher on the right side.
*Test Fit the Rotor and Torque Member & Rotor*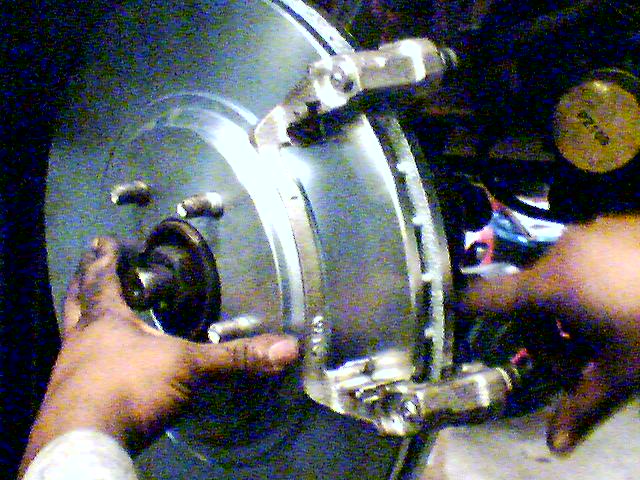 Mounting the rotor onto the hub and securing the torque member onto the bracket.
1) Place the new centering ring onto the hub for the new rotor to sit on. Make certain its flush w/ the hub.
2) After the ring is in place, put the 13'' rotor on. It should sit on the hub w/o trouble. Make sure the dust shield isn't touching the rear of the rotor.
3) Place the caliper bracket in front of the remaining two holes of the bracket and secure w/ either the stock Maxima hardware or new hardware.(17mm bolts)
4) Load the new pads into the torque member.
*Mounting the Caliper*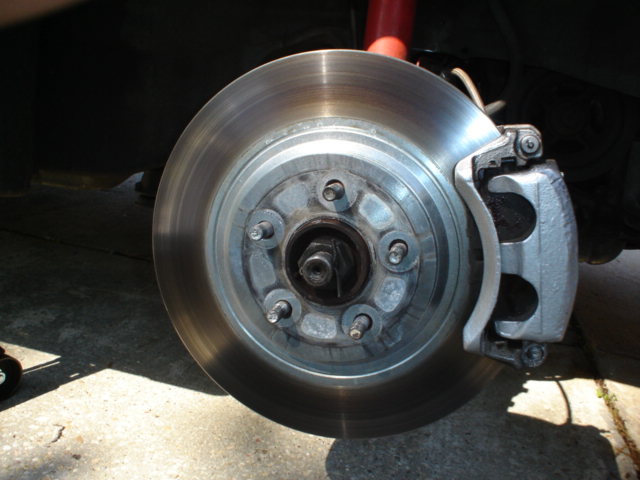 Rotor, caliper successfully mounted.
5) Place the new calipers onto the torque member and secure it w/ the caliper pins. (14mm bolts)
6) Re-attach the brake lines.
7) Check that all bolts are properly torqued and re-mount tire.
8) Check to see if the rotor spins freely. If not, check your wheel spokes for contact w/ the caliper. Grinding of the caliper might be necessary.
If everything is successful, don't forget to bed in those new brakes. Instructions to do so are found here: http://www.zeckhausen.com/bedding_in_brakes.htm
Enjoy!