jan
Submitted by

gtrrider

on Mon, 08/06/2012 - 15:57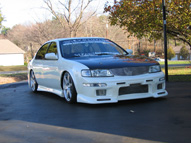 From the street to the show, Brandon knows how... Read on to see what I mean.
Engine Performance
Submitted by

gtrrider

on Fri, 08/03/2012 - 17:10

Ok, all the way from the Tri-State area we have the one and only Arnaud making a showing on VQpower for the Month of January. The car has an array of Lighting, Audio, and Performance mods that make it an all around car for show and riding around with the bass up. I give a two thumbs up to this one! Read on...