springs
Submitted by

gtrrider

on Mon, 08/06/2012 - 15:50
Easy suspension tuning is in your hands. S - Tech was made so that everyone can enjoy sports driving. Based on original specification so that the installation is easy. Full compliance with car inspection with Great styling. Plus fun to drive. The highest quality all brought to you at great prices.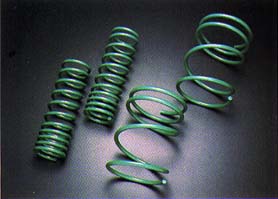 Submitted by

gtrrider

on Sat, 08/04/2012 - 12:32
Sprint Performance Suspension lowering springs are made with the enthusiast in mind. They combine the best of both worlds, a great ride at a height that enthusiasts want. Sprint Springs are designed, tested and engineered in-house by Sprint. All Sprint Springs are shot-peered, heat-treated, pres-set, inspected, tested and performance powder coated to insure a lifetime of durability. They are manufactured in the USA using the finest chrome silicon steel on computerized CNC machines.
Submitted by

gtrrider

on Sat, 08/04/2012 - 10:37
Coming from a line of Eibach springs for the earlier generation Maxima's, we can come to assume that these springs would provide a more aggressive feel and a firm, but tolerable ride. They are rated at 2.00" lowering in the front, and a tiny .8" lowering in the rear. The stance is equaled out nicely with this set of springs, paired with the factory dampers, it makes for a very comfortable ride. Pictures inside...
Pictures: